A couple of weeks ago I got to participate in Transforming Ministries 5.  This conference brings together around 50 clergy to listen to amazing stories from secular businesses as a catalyst for us to create new ministries for our communities.  This year we got to hear from the historian for McMenamins.  If you are not from the Northwest you might not know that this is a beer company that takes over old, historic buildings and gives them new life as breweries, bars, restaurants, hotels, and concert venues.  Their motto from their website states, "McMenamins has been a neighborhood gathering spot throughout Oregon and Washington since 1983. We handcraft our own beer, wine, cider, spirits and coffee. We offer an eclectic mix of pubs, historic hotels, movie theaters, concert venues, spas, events and just pure fun—join in!"  Take a look at all they have to offer here.
It was fascinating to hear the historian talk about the Kennedy School, the hotel that had once been a neighborhood school.  The care taken with the art, the color scheme, and the maintenance of connection to the history of the community made the space a vibrant place to spend time.  The company understands that the environment matters.  People are more likely to relax, hang out, and tell stories in a apace that feels comfortable and interesting.  McMennamins is know for their artworks much of it murals that have a particular aesthetic that celebrate the location or stories connected to a place.  Their goal of being a neighborhood gathering spot means they create space where people want to come and connect.  They do this through the aesthetics and feel of the places they create.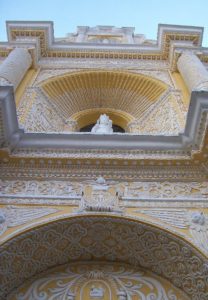 As I think about how this translates to the church I think about the churches and cathedrals we visited when I was in Spain.  Those places communicated so much theology with their architecture and environment.  The small dark buildings that captured the theology of being under God's thumb.  The soaring, ornate sanctuaries that reminded people what heaven could be like.  The windows that brought the stories of Christ to life for illiterate masses.  All of these were made to communicate, to support the goal of the church.
We've done a lot of work at SFC over the years to make the house inviting to the community.  Most recently we updated the kitchen counters and walls.  It was actually a small project, but it has made a big difference on folks feeling welcome to use the kitchen and claiming that as their space.
As I look at Trinity's sanctuary we have some work to do.  We are a smallish group (55 or so) worshiping in a space for 250+.  We too have soaring ceilings and the best in 1956 design and decor.  We share our space with another congregation and while  most folks don't even notice the piles of furniture or the mishmash of boxes in the chancel as someone new to the space I can't help but see that these maybe don't support our goal of creating a transcendent worship space.
Sometimes it can feel like the stuff of the church doesn't matter, but everything we do is communicating who we are and what we are about.  I'm thankful to take a page from McMennamins and think intentionally about the spaces we inhabit as tools to use in fulfilling our goals as a community of hospitality, love, service, and spiritual growth.
-Eilidh